Protect your temperature sensitive products,
Air Cargo Covers, the best choice !

We provide different qualities and dimensions of Air Cargo Cover products at even small quantities to customers requiring protection of temperature sensitive products during storage and transport.
All of our customers, acting in the industry fields of pharma / life science and in food production of chocolate and cheese are more than happy since they started to use DuPont™ Tyvek® Cargo Covers. The number of claims due to temperature excursion are simply reduced to zero. Tyvek Cargo Covers protect your products against following perils:
Solar Radiation
Ambient Temperature Extremes
Heat Generated by Respiring Perishables
Physical Hazards, Including Pests
Support Normal Respiration While Venting Harmful Gases & Vapors
Theft & Security
We sell 3 Levels of Quality Products of DuPont™ Tyvek® Cargo Covers to meet your quality requirements:
1. Tyvek® Solar™ W10 Cargo Covers
2. Tyvek® Solar™ W20 Cargo Covers
3. Tyvek® Xtreme™ W50 Cargo Covers
DuPont™ Tyvek® Cargo Covers are used to protect pharmaceuticals, chemicals, inks, and a variety of perishable products including fruits, vegetables, plants and flowers, dairy products and more. DuPont™ Tyvek® Cargo Covers have been validated by pharmaceutical manufacturers in applications subject to revised European Good Distribution Practice (GDP) guidelines.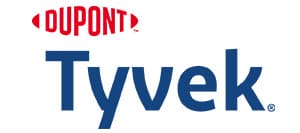 Most of the dimensions and qualities can be delivered in short time, however some of specific dimensions and qualities need to be ordered and are therefore subject to a certain leadtime. Tyvek ®