DuPont Protection Solutions Introduces New Recycling Program for DuPont™ Tyvek® Cargo Covers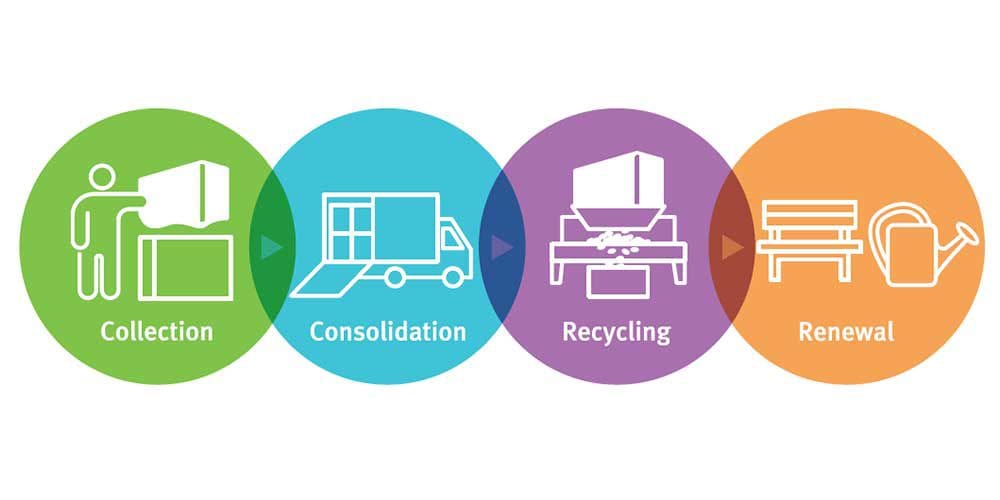 WILMINGTON, Del., Sept. 21, 2017 – At the 2017 IQPC Global Forum in Chicago, DuPont Protection Solutions will announce a new courtesy recycling service for its range of DuPont™ Tyvek® Cargo Covers.
The program is the latest step in the company's commitment to sustainability and environmental stewardship and will ensure that all Tyvek® customers have access to a satisfactory end-of-life solution.
"Shippers have told us they want a dedicated recycling service that is convenient to use and guarantees the product will be recycled in an environmentally responsible manner," said Linnette Lopez, North America segment manager at DuPont Protection Solutions. "Our Tyvek® Cargo Covers external layer is made of a 100 percent high-density polyethylene (HDPE) and can be mechanically recycled and yet some of it ends up in a landfill often through simple oversight or lack of local processing facilities. The new recycling program is provided to our Tyvek® customers at no charge and, depending on volumes, the spent covers can either be picked up from site or dropped off at a local processing center."
All Tyvek® Cargo Covers are included in the program, including the fleece-lined Tyvek® Xtreme™ W50, the silver-reflective Tyvek® Solar™ W20 and the classic Tyvek® Solar™ W10 product. Reclaimed Tyvek® material will be recycled into a high-grade polymeric feedstock for processing into brand-new, high-grade products such as low-maintenance decking boards, durable street furniture, sturdy playground equipment, long-life siding materials and lightweight, easy-to-clean, shipping pallets.
The program will be available across the United States and soon offered in Canada and other key global markets. A guidance document on the new Cargo Cover recycling service will be available from DuPont booth number 723-721 at the Chicago event.
About DuPont Protection Solutions
DuPont Protection Solutions, a business unit of DowDuPont Specialty Products division, is a global leader in products and solutions that protect what matters – people, structures and the environment – and enables its customers to win through unique capabilities, global scale and iconic brands. DuPont™ Kevlar® helps protect law enforcement officers, military personnel, athletes and astronauts; DuPont™ Nomex® helps protect firefighters, industrial workers and race car drivers, as well as mass transit and wind energy systems; DuPont™ Tyvek® helps protect chemical industrial workers, as well as sterile medical devices and building construction; and DuPont™ Corian® resists the growth of bacteria to help protect hospital patients against infection. For more information about DuPont Protection Solutions, visit: www.dupont.com/protection-solutions.
About DowDuPont Specialty Products Division
DowDuPont Specialty Products, a division of DowDuPont (NYSE: DWDP), is a global innovation leader with technology-based materials, ingredients and solutions that help transform industries and everyday life. Our employees apply diverse science and expertise to help customers advance their best ideas and deliver essential innovations in key markets including electronics, transportation, building and construction, health and wellness, food and worker safety. DowDuPont intends to separate the Specialty Products division into an independent, publicly traded company. More information can be found www.dow-dupont.com.
About 2017 IQPC Global Forum
With over 850 attendees and more than 120 speakers, the IQPC Global Forum for Temperature Controlled Life Science Supply Chains is the world's largest event of its kind and will be held in Chicago on September 25-29, 2017. See www.coldchainglobalforum.com.
The DuPont Oval logo, DuPont™ and all products, unless otherwise noted, denoted with ™, ℠or ® are trademarks or registered trademarks of E.I. du Pont de Nemours and Company or its affiliates. 
Air cargo cover : Download
Sustainability Brochure 2019
DUPONT ™ TYVEK ® PDF (eng)
Tyvek Material Brochure
(2.5MB)